On Friday Jan 15th 2016 we invited Ursula Eshragi to drop by the salon with her Dermvisage skin analysis machines and a wide assortment of Dermvisage anti aging skin care products to offer a skin care workshop, complete with analysis and product demonstrations. Here's Ursula checking out the space before she set up in the front of the salon in the cozy waiting area right behind Donna's chair. You can read a good story about the whole afternoon skincare and hair care on the Dermvisage blog.
On this chilly Friday in January we also had another guest. Shannon Tebb, aka Shanny in the City is a premier Toronto matchmaker and 'wing woman'. appeared for a make over. She was here to get a new hairstyle and skin analysis. This thirty year old blond haired girl who you can see below in her BEFORE picture is a pleasure to work with and she made some keen observations about the salon and our business. Hair stylists can help matchmakers by building the confidence and appearance of their clients before big dates. . Wait till you see the results of Shanny's makeover…
You can read about her Donna Dolphy + Dermvisage make over on Shanny's blog.

Donna started her unique hair styling service by asking Shannon a lot of good questions so she could understand what the girl was actually looking for in this hair makeover. Donna discussed in detail the options and listened carefully as Shanny expressed what she wanted to have done to her head.
Shanny referenced the movie 'Fifty Shades of Gray' and Donna knew just what to do. She asked Shanny how much time she spends doing her hair at home, and how easy it will be for her to maintain this new look? These are important considerations for professional women with busy lives.
While Donna cut Shannon's hair, Ursula offered all the staff members free skin analysis.
You can see Todd is listening intently to Ursula in the background. Todd is a top Toronto hair stylist who works at our salon, and he was very curious about his own skin which he complained often felt dry. Common with red headed men, Todd is like all the rest of the Gingers in the world in that he has notoriously fair skin and slight freckles.
Ursula brought out the Dermvisage skin analysis triple sense unit which is a laser light of some description that painlessly takes a reading which measure three skin factors. Ursula started the analysis using the Triple Sense sensor for measuring Todd's skin moisture, oiliness, and elasticity level. His hydration and sebum level was well under 30 % – very low – we recommend using product to achieve a level above 30% for healthy skin. Why? Because our skin relies on oil to keep moisture and without it our skin will appear rough, flaky, and wrinkled.
Ursula first established a personalized profile regarding Todd's skincare routine. She learned about the condition of his skin today,. Todd has dry skin which can lead to a damaged barrier function which results in increased sensitivity and inflamed skin. Human skin has a solid barrier that shields the cells, keeping allergens and irritating substances away from the deeper skin layer. External elements like atmospheric pollution and especially unprotected sun exposure, and internal elements such as medication, hormonal changes can have a big impact on the way our skin looks and feels.
Image Pro I skin imaging system quickly analyzes skin health. The system combines the best of photography and skin analysis to provide valuable information about the condition of the skin in its deeper levels. Ursula used this tool to take a series of photographs of Tod's face and then microscopically examine key areas of the skin. Based on Todd's score, Ursula was able to identify which areas of his skin needed most attention. Here is the results she obtained; Medium sun damage 34%, appearance of fine line wrinkles 37%, skin roughness 46%.
Donna gave Shannon her Non Kissing Blow Dry
Donna's Non Kissing Blow Dry Technique is her own proprietary hair styling method which she describes as 'an organic way of carrying out a blow dry that leaves your hair looking and feeling terrific'. She continues, "…its 'an innovative solution that seals the cuticles so you never leave feeling like your hair has been fried.'
Non Kissing Blow Dry costs $40 – "Non Kissing Blow Dry Technique is when oxidation occurs between the brush and the blow dryer which respects the integrity of the hair, and allows the hair to be shinier, healthier and more luscious."
Donna cut and styled Shannon's hair into the look she thought would best suit her lovely head.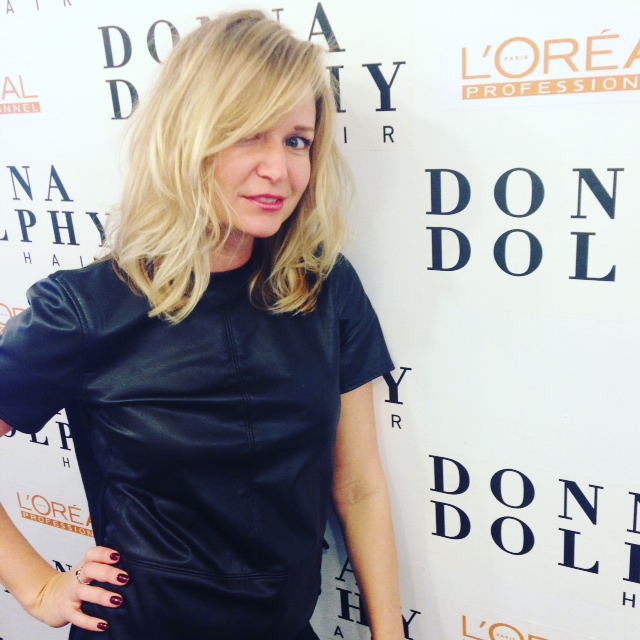 Next it was Shannon's turn with Ursula and she started out much the same way as Donna did by asking Shannon lots of questions about her daily habits. She also asked the girl's diet, and of course what products she was currently using in her skin care regime.
Ursula's Triplesense machine checked Shannon's moisture, oiliness, and the elasticity of my skin and made a display on a laptop computer.
Having good elasticity means Shannon's skin could remain wrinkle free years to come. Next, same as Todd, she had her whole face analyzed in a bowl shaped sensor with even more lasers.
And below you can watch this three minute video of Ursula Eshragi explaining the results to Shannon Tebb,
Shannon sat with Ursula for a long time afterwards talking about Dermvisage skincare products and ideology.
These anti aging products feel light and clean and not heavy and oily. Ursula gave Shannon and Todd some of the Dermvisage Super Smoothing Cream which is a high concentration of hyaluronic acid combined with squalane and one of the best selling products on the website.
It was wonderful having both of these professional women visit the salon and we hope to do more of these workshops in the future.
Would you like to showcase your service or cosmetic products in our Yorkville salon? Please reach out with your ideas and contact us.